Are you looking for an easy, delicious recipe that is sure to bring a taste of Asia into your home? Look no further than Din Tai Fung green beans recipe! This delectable dish can be cooked in less than 15 minutes and really packs a punch with its intense garlicky flavor. Not only are these savory green beans incredibly tasty but they are also vegan-friendly and full of fiber! So if you're looking to spice up your meal plan without any extra fuss, make Din Tai Fung's green bean dish tonight – it won't let you down!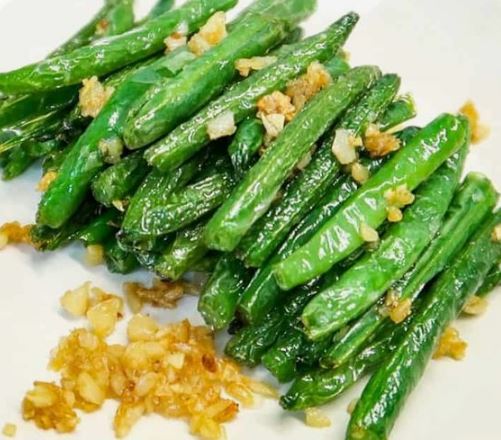 What are Din Tai Fung garlic green beans?
Garlic green beans are a popular Asian dish that is usually served as a side dish. It originates from the mainland Chinese cuisine and can be found in various forms throughout East Asia. Din Tai Fung's version of this classic dish adds an extra flavor, thanks to the addition of garlic, making it even more delicious than before.
A few musts to get the perfectly blistered and snappy garlic green beans:
Cooking method:
When it comes to cooking garlic green beans, the most important thing is to ensure that they are cooked at a high temperature. This will ensure that they cook quickly and evenly without burning them.
Seasoning: Once the green beans have been cooked, season them with some finely chopped garlic, salt, and pepper for added flavor. Adding a pinch of sugar will help to balance the flavors and make the dish even more delicious.
Serving: Serve your garlic green beans as a side dish or an appetizer with a selection of other Chinese dishes. You can also serve them as part of a larger Asian-inspired meal, such as fried rice, noodles, and stir-fries. No matter how you serve them, these garlicky green beans are sure to be a hit!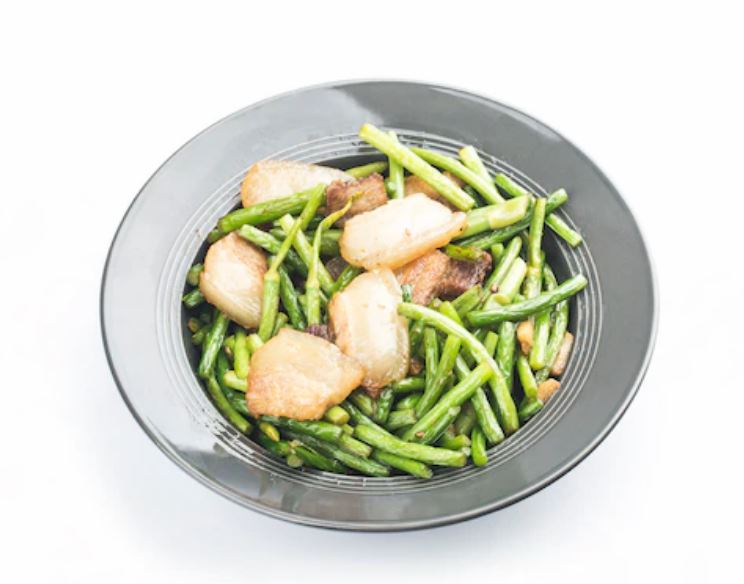 Frying oil temperature:
The frying oil should be heated to medium-high, about 375°F (190°C), for the best results. This will ensure that the green beans cook quickly and evenly without burning them.
Storage: Any leftovers can be stored in an airtight container and refrigerated for up to two days. Reheat in a hot wok or skillet, stirring occasionally until heated through.
Small batch cooking:
To make a small batch of garlic green beans, simply decrease the quantity of ingredients and adjust the cooking time accordingly. This will ensure that your dish is cooked to perfection without having any leftovers.
Din Tai Fung Garlic Green Beans
EQUIPMENT:
– Wok or large skillet
– Measuring spoons
– Spatula
INGREDIENTS:
– 1 pound fresh green beans, trimmed and cut into 2" pieces
– 3 cloves garlic, finely chopped
– Salt and pepper to taste
– 2 tablespoons vegetable oil or other neutral cooking oil
INSTRUCTIONS:
1. Heat a wok or large skillet over medium-high heat and add the oil.
2. Once the oil is hot, add the garlic and cook for 1 minute until fragrant.
3. Add the green beans to the pan and season with salt and pepper to taste. Stir-fry for about 5 minutes until the beans are cooked but still crisp.
4. Remove from heat and serve as a side dish or an appetizer with other Chinese dishes.
Prepare the ingredients:
Before you start cooking, make sure to have all of the ingredients ready. This will help to make the whole process go more smoothly and quickly.
The key to making garlic green beans with Din Tai Fung's special flavor is in the intense heat used during stir-frying. Cooking at a high temperature ensures that the green beans cook quickly and evenly without burning.
Fry the green beans in small batches:
For best results, fry the green beans in small batches to ensure they cook evenly and don't overcrowd the pan. This will also help prevent them from burning or sticking to the bottom of the pan.
Make the garlic oil and combine:
Making the garlic oil for this dish is quick and easy. Simply fry the chopped garlic in some neutral cooking oil until fragrant, then add it to the green beans before serving.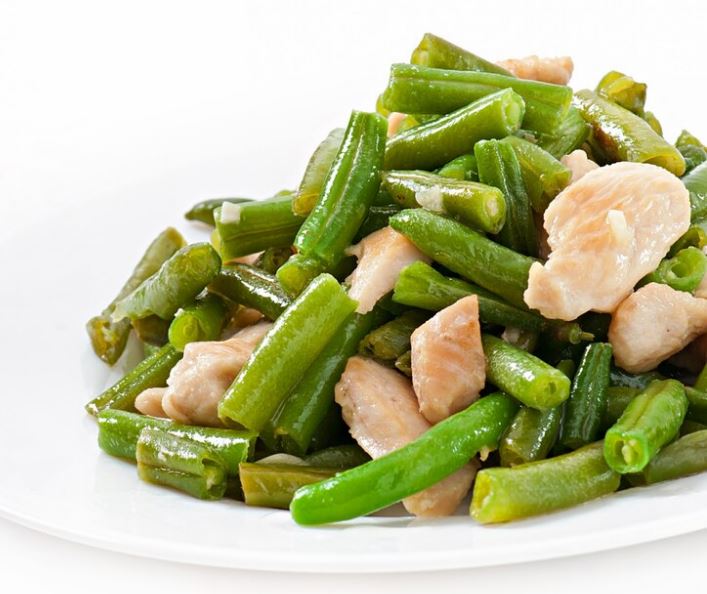 Final Thoughts
To sum it up, with this wonderful recipe for Din Tai Fung Green Beans you can finally make them yourself at home in your own kitchen! Who wouldn't love to enjoy the delicious flavors of a popular Chinese restaurant dish in your very own home? You will be able to impress your family and friends while still saving money by making this restaurant favorite. The ingredients are easy to find, the procedure is straightforward and the resulting dish is incredibly tasty. So if you're looking for a fantastic dish that is both simple and flavorful, try this easy Din Tai Fung Green Beans recipe today! You won't regret it. Be sure to let us know how it turns out by sharing it using #dintaifunggreenbeansrecipes so we can hear about your experience with the dish. Bon Appetit!