Healthy eating can often be difficult in our busy lives, but there is one simple and delicious way to make sure you are getting your nutrition – warm, nourishing lentil soup! This easy yellow lentil soup recipe is packed full of vibrant flavor and nutritional goodness. With a combination of warming spices, zingy tomatoes and protein-rich lentils, this delectable comfort food will not only fill you up but it's perfect for boosting your energy levels and bringing some tasty sunshine into your day. Plus it takes just 35 minutes from start to finish – making it the ideal midweek meal for when time is tight. So get ready to send your taste buds on an exotic flavor adventure; let's dive into this nutritious bowl of bliss!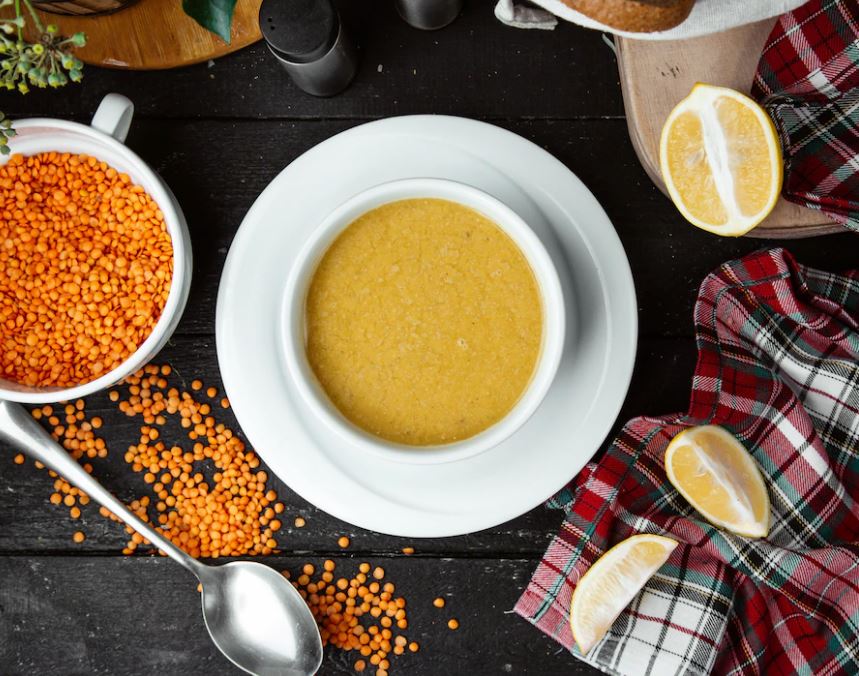 What are the ingredients in yellow lentil soup?
This yellow lentil soup recipe is packed full of wholesome ingredients that make it as delicious as it is nutritious. Here's what you'll need:
• 1 tablespoon olive oil
• 1 onion, chopped
• 2 cloves garlic, minced
• 1 teaspoon ground cumin
• ½ teaspoon ground coriander
• ¼ teaspoon turmeric powder
• 1 cup yellow lentils, rinsed
• 2 large tomatoes, chopped
• 4 cups vegetable broth or water
• 2 tablespoons fresh lemon juice
• 2 tablespoons freshly chopped cilantro (for garnish)
How to make yellow lentil soup
1. Heat the olive oil in a large pot over medium heat. Add the onion and garlic, and sauté for 2-3 minutes until fragrant.
2. Add the cumin, coriander, and turmeric to the pot and cook for another minute or two until the spices become fragrant.
3. Add the lentils and tomatoes to the pot and stir until everything is well combined. Cook for a few minutes until the tomatoes have softened.
4. Pour in the vegetable broth (or water) and bring it to a boil. Once boiling, reduce heat and let simmer for 20-25 minutes until the lentils are tender.
5. Once the lentils are cooked, stir in the lemon juice and season with salt to taste.
6. Serve warm, topped with freshly chopped cilantro for garnish.
What are some of the benefits of eating yellow lentil soup?
• Yellow lentils are a great source of protein and fiber, making them an ideal choice for vegetarian and vegan diets.
• The warming spices used in this recipe have anti-inflammatory properties, helping to reduce joint pain and keep your body healthy.
• Lentils are also rich in vitamins and minerals, including iron which helps increase energy levels and protect against anemia.
• The tomatoes in this soup are full of lycopene, a powerful antioxidant that can help reduce the risk of certain types of cancer.
• This yellow lentil soup is a great way to get your daily dose of vegetables while still enjoying a delicious meal!
• Plus, it's low in calories and fat, making it the perfect comfort food for anyone trying to lose weight.
• Finally, this tasty soup is super easy to make and can be prepared ahead of time for a quick and nutritious meal throughout the week.
Is yellow lentil soup good for you?
Yes! Yellow lentil soup is a great way to get your daily dose of nutrition while still enjoying a delicious meal. It's full of protein, fiber, vitamins, and minerals that will help keep you feeling energized and healthy. Plus, it's low in calories and fat which makes it perfect for anyone trying to lose weight. Finally, it's an incredibly simple and quick meal to make that can be enjoyed as a light lunch or as part of a larger dinner.
Final Thoughts
There you have it! We hope you found this simple and flavorful recipe for yellow lentil soup helpful. With the minimal amount of ingredients, we think that anyone at any level can make a delicious soup in no time. If you have any dietary restrictions, feel free to adjust the recipe accordingly and make it your own! Make sure to take a photo and let us know about it when you're done – we would love to hear about your special twist! Don't forget to bookmark or pin this recipe for easy reference whenever the craving for yellow lentil soup hits. Enjoy!