Are you looking for an easy and delicious way to make pork shank? Try this Pork Shank Slow Cooker Recipe! This dish is incredibly tasty, and can be whipped up with just a handful of ingredients. Thanks to the slow cooking nature of the crockpot, your pork shanks will develop an exquisite flavor as they simmer away in their own juices – all while infusing your entire home with its mouthwatering aroma. Whip out your slow cooker and get ready to enjoy a truly amazing meal!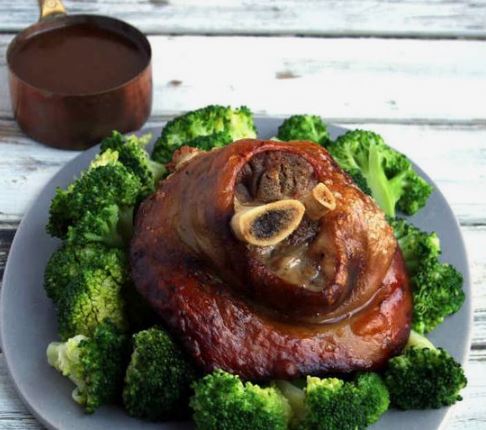 How do you slow cook pork shank?
To make this slow cooker recipe, you'll need a few simple ingredients. Start by combining garlic, onion, and your favorite herbs in a bowl. Rub this mixture over the pork shanks and place them in a slow cooker. Next, add some beef stock or chicken broth to the pot and set it on low heat. Let the pork shank cook for several hours until it's tender and cooked through. Once ready, serve with a side of your favorite vegetables or mashed potatoes.
Ingredients & Nutrition:
• 2 pounds of pork shank
4 cloves of garlic, chopped
1 onion, diced
2 tablespoons of your favorite herbs (such as thyme, oregano, or rosemary)
• 1 cup of beef stock or chicken broth
• Salt and pepper to taste
Nutritional facts per serving: Calories: 400, Fat: 10 g, Carbs: 5 g, Protein: 40 g.
Tips & Variations:
• To make this dish even more flavorful, you can add some root vegetables like carrots and potatoes to the slow cooker before turning it on.
• If you want a thicker sauce, mix 1 tablespoon of cornstarch with a few tablespoons of water and add it to the slow cooker.
• For an even more fragrant dish, add some orange or lemon zest when you mix the herbs and garlic in the beginning.
• You can also make this recipe in the oven by placing the pork shank in a roasting pan and slow-cooking it at 300°F for around 3 hours.
• To make a heartier meal, serve your pork shank with steamed veggies or a salad.
• For a delicious twist, add some diced apples or raisins to the slow cooker along with the other ingredients. This will give the dish an extra sweet and subtle flavor.
• You can also make this pork shank in a pressure cooker if you're short on time! Just reduce the cooking time to 45 minutes, making sure to release the pressure after cooking.
• For extra flavor, serve with a simple mustard vinaigrette or even BBQ sauce.
• To make it healthier, try using chicken broth instead of beef stock, and limiting the amount of salt and pepper you use.
• Leftover pork shanks can be stored in the fridge for up to 3 days or frozen for up to 3 months. Reheat them in the microwave or stovetop before serving.
Directions: (Cooking Time: ~1 Hour)
1. In a small bowl, combine garlic, onion, and herbs until evenly mixed. Rub this mixture over the pork shanks.
2. Place the pork shanks in a slow cooker, then pour in the beef stock or chicken broth.
3. Cover with lid and set the slow cooker on low heat. Let it cook for 7-8 hours.
4. Once cooked through, serve the pork shanks with a side of your favorite vegetables or mashed potatoes.
Final Thoughts
We've explored the idea of making delicious and flavorful pork shank in a slow cooker. We have shared helpful ingredient information, wine pairings to enhance the dish, step-by-step instructions and tips to transform your pork shank into a succulent masterpiece. Pork shank is an excellent entree for any occasion as it is full of deep flavor that appeals to many palates both young and old. Now that you know all about cooking this classic dish in the comfort of your own home, there's no reason not to give it a try! Gather the ingredients listed above, grab your slow cooker and enjoy this rich dish with family and friends. So come one come all, let's get to cooking! And don't forget – when you make this awesome pork shank slow cooker recipe, don't forget to share your stunning creation on social media for all your friends to see!